Dans le cadre de notre campagne ultra simplifiée,  nous avons joué à deux la partie solo ! 😉
Profitant du passage de Luc, je l'ai laissé gérer ses troupes, tandis que je jouait les Français. Les règles de ce wargame (jeu d'Histoire avec figurines) sont Chain Of Command, les figurines sont des 10mm de Pendraken avec quelques PitHead.
Je me suis librement inspiré de la géographie de Givet, avec son église et ses fortifications anciennes.
Mes bâtiments doivent pouvoir être utilisés pour différentes campagnes ( espagne 1936 .. ) aussi n'ai je pas utilisé d'affiches France 1940, qui aurait donné un certain cachet. Mais ça manque ..
In our simple campaign we had a game. We were two, as Luc was here, so I didn't play solo but left him with his soldiers. I played the french. This was a game with Chain of Command and 10mm minis mostlu from Pendraken, with some Pithead.
I loosely based my map on Givet, with the church, and the old fortress on the hill.
As usual, my houses must be used with differents settings ( Spain 1936 ..) so I didn't use some French posters from 1940. But they lack.
Previous game Partie précédente <<- ( la campagne <<   the campaign << ) – –  Edit : 27janvier :    >>Next Game << >>Partie suivante <<

Attaque en force sur le centre de Givet
En fait, une courte patrouille de combat a eu lieu dans les heures précédentes [AII] attaque [B2], depuis le quartier Nord Est ( partie non jouée, résolue par un jet de dés). Ce n'a pas été concluant. Sinon, le camp vainqueur aurait eu des bonus sur le déplacement initial de ses marqueurs de patrouille. Les allemands avaient 20 points de support ( !) et les français 14. C'est beaucoup, ( chaque camp a pioché dans son stock de QG), mais les règles de CoC nivellent la façon de les déployerr, et ça reste donc très jouable.
There was a small fight before ( not played, We solved it with dice, [AII] attacked [B2] ), it was inconclusive. The winner may have got some bonus moves with his Patrol Markers.  The german had 20 support points ( ! ) and the french 14. They choose to use them from their HQ. This may lead to unbalanced games, yes, it's a campaign. But Chain of Command doesn't allow to deploy them easily, so it's still easy to play.

Un pre game barrage ( barrage d'artillerie) de l'allemand va me gêner énormément pour déployer mes troupes qui se terrent sous les bombes et attaques des stukas. Les allemands jouent 2D6 pour leur moral, et utilisent le meilleur. Puis ils ajoutent 1 pt de moral vu leurs effectifs ( règle de ma campagne) Les français sont déja « fatigués » et ne jettent qu'1D6.
A german pre game barrage didn't allow me to deploy easily, as my soldiers were hiding from shells and stukas. German threw 2D6 and kept the best for their morale. They gain +1 pt for being in large number ( house rule for my campaign). The french, « tired » only threw 1D6.
Les français se positionnent dans le centre.

Le joueur allemand n'a pa eu de chances avec son 1er jet de dés.
| | |
| --- | --- |
| | Luc commence son déploiement et se précipite vers la colline. |
Rapidement les allemands atteignent les escaliers menant au sommet de l'ancienne forteresse (du XVIe je crois).

Aucun français n'occupe cette position, quelqu'un n'est pas à son poste, ou un officier n'a pas pris en compte cette position ?
| | |
| --- | --- |
| | Une fusillade entre ma 1ere section et les allemands près des  murs antiques. |
Vue opposée de la porte.

Comme il est facile de s'en rendre compte, c'est un combat urbain qui commence. Il y a plein d'angles, de fenêtres ..
Malgré le bombardement qui me gêne toujours pour déployer mes troupes, je parviens à sortir un H39.

Mais que vois je à l'autre extrémité de la rue, au loin ? Un panzer ! Je tire, sans succès, puis me déplace dès que je le peux.
| | |
| --- | --- |
| .. puis mon H39 se déplace sur ma droite, où ont lieu des combats. Les allemands occupent maintenant la forteresse. le char tire, sans trop de succès non plus. | |
Les allemands ont des Pz IV comme support.

Mais Luc est réticent à les faire entrer en ville.
J'arrive enfin à déployer une nouvelle section, qui grimpe dans le clocher.

Une bonne position, mais dangereuse.
| | |
| --- | --- |
| Sur ma droite, une section allemande complète tient la forteresse, et un observateur d'artillerie est avec eux. | |
Les français sont sous les tirs ennemis.

Les allemands obtiennent quelques tirs chanceux !
| | |
| --- | --- |
| Les allemands se précipitent vers le Jump Off Point français, mais n'ont pas assez de mouvement pour entrer directement dans la maison. | |
| | |
| --- | --- |
| | Depuis le haut du clocher, les français ouvrent le feu sur la section allemande en train de courir. |
.. les allemands cherchent à se mettre à couvert, et tombent nez à nez avec ma section française. Celle ci n'est pas au complet, car elle a subit des pertes dans les parties précédentes.

Je n'ai pas eu de chance, et je perd toute cette section.. 🙁
Après plusieurs tours de jeu, les allemands ont clairement l'avantage. Ils effectuent une prise de flanc.

En tant que français, je n'ai pas réussi à déployer beaucoup de troupes, mais je tiens le plus gros bâtiment, et j'ai stoppé l'avancée allemande.
| | |
| --- | --- |
| Le Panzer IV tire sur le clocher de l'église, et Luc obtient un TRÈS bon jet ! le bâtiment chancelle et menace de s'effondrer… | .. et Luc est encore chanceux ! QUATRE tués ! 🙁 |
| | |
| --- | --- |
| L'église sur le point de s'effondrer | |
| | |
| --- | --- |
| .. et les français se sauvent, traversant la rue sous le feu ennemi ! | |
Et les mortiers allemands de 81mm entrent dans la danse !

AU SECOURS !

Les français sous le barrage sont cloués.

Et je n »arrive toujours pas à déployer davantage de troupes..
Vue depuis la colline.

Les français cassent, le morale étant tombé à 0.

Ils arrivent à s'échapper, car la route n'est pas fermée par les allemands. Il s'agit d'un jeu en campagne, ils auraient pu se rendre..
Soudain tout est calme.

Les allemands sont eux mêmes surpris, les ennemis ont fuit.
Pourront ils avancer rapidement pour exploiter ?…

Nous verrons …
Victoire Allemande !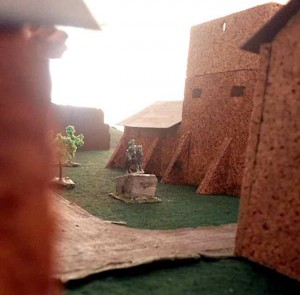 Il aura été très difficile pour le français de se déployer, d'abord à cause du pre game barrage, puis ensuite – chaîne de commandement rompue ? – à cause de mes dés.
La perte  de mon 1er jump off point va encore plus limiter mes possibilités. J'étais conscient qu'il ne me serait pas possible de stopper l'attaque, mais je comptais leur faire payer très cher chaque mètre gagné. Encore heureux que Luc n'ait pas pensé à fermer la nasse.. Mais ces troupes françaises sont très fatiguées maintenant..
It was very difficult to deploy the french. First because of the pre game barrage, then – a broken chain of command ? – with my unlucky dice.
Losing my first Jump Off Point was bad, and I had less choices. I knew I was not able to stop the attack, but I wanted them to pay each yard. happily, Luc didn't close the trap, and the french did escape. But they're very tired now.
It was a fun game, although some times I did nothing ! Reality …  😉
C'était une partie fun, mais par moment je n'ai rien fait ! Réalisme … 😉
Pertes –
Casualties

:

Français : 2 FM24 : indemnes. 17 Rifles, 5 indemnes, 8 tués, 1 blessé pour 1 tour,  3 blessés pour 3 tours

Allemands :  5 rifles : 3 indemnes, 1 blessé pour 2 tours, 1 blessé pour 3 tours.
Merci de m'avoir lu ! Thank you for reading !