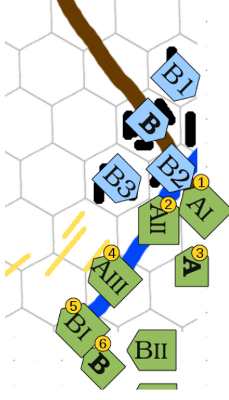 Bonjour. Dans le cadre de nos jeux d'Histoire avec Figurines, nous préférons les campagnes. Toutefois elles ne sont pas toujours faciles à gérer (cf. Hannut en stand by, ou le retard pris sur Espagne 36 ) Aussi j'ai commencé à bosser sur une version simpliste de gestion. J'indiquerai au fur et à mesure les modifications. Dans un 1er temps, je me la joue « en solo » (mais ça pourrait changer). Le principe de cette gestion de campagne doit pouvoir être adapté à la Campagne de 1940, Normandie 44, le front de l'Est etc. Les auteurs de Chain of Command travaillent sur un système de campagne, mais qui s'attachera plus à l'historique de votre officier qu'au déroulement d'une bataille.
We love playing campaigns, but sometimes it's difficult for the game master to compute the turns ( we lost many months of gaming in our Hannut 1940 and our Spanish 1936 ) I decided to work on a small campaign system. I know the too fat lardies ( Chain of Command) are working on a campaign system, but I think the main goal will be to follow our guys (officer ?) In my system the main goal is the battle. Now I'm playing solo, but this may change. This system should be ok for the Western 1940 campaign Normandy 1944 or the East Front.
Voici les premiers combats ainsi générés. Ils ne sont pas équilibrés ( quoi le 1er scénario l'ait été) puisqu'il s'agit d'une campagne. Si un scénario s'avère vraiment  trop déséquilibré, il ne sera pas joué et remplacé par des jets de dés.
Je me suis inspiré du terrain autour de Givet, et d'une action de l'infanterie Allemande. Avec les points de support (cf. plus bas  paragraphe entre les 2 parties de wargame) il est possible aux joueurs d'utiliser des Panzers en support..
EDIT 1/1/14 :  la suite ici <<
This is my firsts fights, they may be unbalanced, as this a campaign. If a game should be too unbalanced, I will only throw some dice. I was inspired by the country around Givet and what happened historically. Then I changed many things. With the support points, it will be possible to play Panzers, not only infantry.
EDIT : january 1st : next game was played here <<

Patrouille à l'aube dans Givet
13 mai 1940, les combats commencent.  Les forces allemandes ayant prévu d'attaquer et de passer, s'offrent d'abord une reconnaissance en armes sur le pont de Givet. Nul question d'effet de surprise, le Français est déja là… Cet engagement ne permettra pas de gagner la case, mais offrira des bonus au camp vainqueur, et surtout commence à « fixer » les points de support.
may, 13th. The fights began. German forces launched an « armed recco » on the bridge of Givet. No surprise is possible as the French are already here. The goal is to get some bonus for the next game, and to « fix » some support points (I will explain later in this AAR)
Après la phase de patrouille, les jump off points (points d'entrée) sont placés. Ils sont sur les 2 rives de part et d'autre de la rivière.

Les français tiennent les maisons.
Rapidement les sections sont déployées.

Dans ce scénario il « suffit » de faire craquer le camp adverse. Les effectifs sont réduits (c'est à dire qu'il y a très peu de points de support)

In this scenario the goal is to break the ennemy. There were not many troops ( no support points)
| | |
| --- | --- |
| | Des fusillades commencent. |
Les allemands utilisent mal les couverts et subissent des pertes !

« Hey ! Les français étaient censés être faibles ?! »
| | |
| --- | --- |
| | Sur la rive ouest du pont de Givet |
| | |
| --- | --- |
| Les Allemands utilisent enfin des grenades fumigènes. | |
| | |
| --- | --- |
| … mais n'arrivent pas à progresser sous le feu intense des français. | |
| | |
| --- | --- |
| Ils doivent stopper et battre en retraite, ayant eu trop de pertes. | |
Défaite allemande
Ce scénario de Patrouille est une défaite allemande. Lors de la prochaine partie sur cet hexagone, le camp français aura un bonus : il pourra effectuer TROIS déplacement de ses marqueurs de patrouille aussitôt après les avoir placés.
The german lose this Patrol scenario. In the next game ( on this hex ) the french will use a bonus : They will move THREE times their patrol markers, just after putting them on the board.
Les pertes sont comptées pour chaque « platoon » ( dans le sens anglais du terme ), et chaque perte joue un dé :  1-2 : il est mort ou grièvement blessé pour le restant de la guerre. 3-4 : il est blessé légèrement, et ratera 1d3 tours de jeu. 5-6 : Cette figurine n'était que très légèrement blessée ou avait fuit, elle est disponible dès la fin de ce scénario.
Casualties were kept and compute. Then for each casualty, we'll throw a die : 1-2 : this man was killed or too wounded for the duration of the war.  3-4 : This man was lightly inured, and will miss 1d3 game turns. 5-6 : this man was lightly wounded or fled. He's back as soon as the scenario is over.
Un autre point, est l'utilisation des points de support. Chaque QG de compagnie dispose d'un certain nombre, et peut les attribuer à ses troupes adjacentes. Une fois attribués, ils y restent. Le joueur choisit d'attribuer de 1 à 5 D6 ( ou même aucun), qui sont alors décomptés du total stocké par le QG. Dans ce 1er scénario, personne n'a utilisé de points de support.
Another point is the use of support points. Everry company HQ has a pool of support points. It may give them to his adjacent units. Once given, they're kept by the platoon. The player will choose how many die ( from 0 to 5 ) he'll use. The points are spent from the pool of th HQ. In this first scenario, no one used Support Points.
L'attaque à midi !
Sur la carte stratégique, on voit que la 2e action du camp allemand est une autre attaque du pont de Givet. En effet, il pensait gagner la patrouille jouée précédemment, et avoir le bonus.. mais non ! Le joueur allemand attribue secrètement 5D6 points de support ! C'est énorme, d'autant qu'il fait 20 ! Le joueur français aura joué 3D6 pour un total de 8. son GQ diminue de 8 pts son stock, le GQ allemand de 20 points. La partie sera « Attack and Defend »  (p. 76)
On the map we saw a 2nd attack to seize the bridge.of Givet. The german thought it will use his bonus from the previous game 'patrol'.  No luck ! The german secretely side choose to use 5D6 support points, for a total of 20 ! That's huge ! his QG spent that many support points, and he will « buy » 20 support points. The french used 3D6 for a total of 8. The game will be « attack and Defend » (p.76)
La phase de patrouille.

Le camp français a eut un bonus de 3 mouvements gratuits car il avait gagné le scénario spécifique de patrouille précédemment.

Le joueur allemand n'aura eu qu'un seul mouvement gratuit. Le placement est clairement à l'avantage du français.

The set up was good for the french.
| | |
| --- | --- |
| | Une MMG française Hotchkiss est déployée et ouvre le feu. |
| | |
| --- | --- |
| Sur la colline en face, le camp allemand déploit une canon d'infanterie et riposte. | |
| | |
| --- | --- |
| | .. et les français subissent des pertes ! |
| | |
| --- | --- |
| Vue des positions allemandes, la ville paraît bien loin ! | |
Plusieurs tours de jeu se passent, les tirs sont violents, et le camp allemand faiblit doucement. Il n'arrive pas à positionner ses troupes correctement. Les français vont ils stopper l'attaque ?
Several turns were played, under heavy fire. The german side was slowly losing moral points and was not able to set up his troop in a good way. Will the french stop the attack ?
Soudain le mortier de 81mm allemand ouvre le feu !

Son tir est redoutable et les français doivent se reculer.
| | |
| --- | --- |
| | Le Stug III a enfin trouvé la route et arrive. Il ouvre le feu sur tout ce qui bouge, les murets, les maisons.. |
Bien qu'ayant encore 7 pts de morale, les français se replient. Ils subissent trop de pertes.

Les allemands n'ont plus que 5 pts, mais leurs tirs sont encore bien dangereux.
Victoire allemande, le pont de Givet est pris !
Dans une partie « one shot », le français aurait sûrement tenu, puisque l'allemand était à la peine ( et que le français n'avait toujours pas réussi à sortir.. son canon anti char ! ) Mais dans une optique de campagne,  ayant perdu 15 hommes ( dont 5 se révèleront indemnes !), il semble plus sage de plier bagage. Le camp allemand a mis les moyens pour prendre ce pont, mais a été à la peine. Une notion de faitigue des troupes est aussi prise en compte, le camp perdant subissant 1 pt de fatigue supplémentaire.
In a « one shot » game, the french should have win. He had a better morale and didn't deploy his ATG. But in a campaign game, with 15 casualties ( 5 were NOT wounded !), it was wiser to get back. The german side bought many support ppints to get this bridge. each side also suffered from fatigue, the losing side scoring one more fatigue point.
Et alors ?
Il est trop tôt pour dire si ce système de campagne fonctionne, on verra. En tout cas il m'aura donné l'occasion de 2 bons jeux en solo de Chain of Command ! À Bientôt pour les comptes rendus de la  3e phase du tour de jeu n° 1
I can't say now if this campaign system will be ok, but it gave me two good solo games ! See you soon for the third phase of this first game turn !
Merci de m'avoir lu, n'hésitez pas à commenter. Thank you for reading, feel free to comment.