suite de la 1ere partie de cet article.  The first part here<<.
La bataille de Noisseville,  31 août – 1er septembre 1870  (2/3)
Deuxième article d'une série de trois – Second post of three.
Nous venions de jouer le tour 5 de cette partie de jeu de figurines par correspondance, utilisant la règle de jeu Bloody Big Battles. Le général Frossard semble avoir disparu, peut être blessé. Il a été vu la dernière fois, porté par ses hommes allant vers Noisseville.  Or Noisseville est désormais en feu !
We just played the 5th turn in this game of Bloody Big Battles. The french general Frossard disappeared, he was seen carried away by his men to Noisseville. But this place was now burning !
Vue depuis les positions prussiennes dans le village de Sainte Barbe :
Vous constatez que ce n'était pas toujours facile pour les joueurs de bien voir ce qui se passe 😉
You see it was not always easy for the players to understand what was going on 😉
Vue depuis Rupigny :
 Les français s'engagent de plus en plus fort vers le nord :
The french attacked stronger towards the north :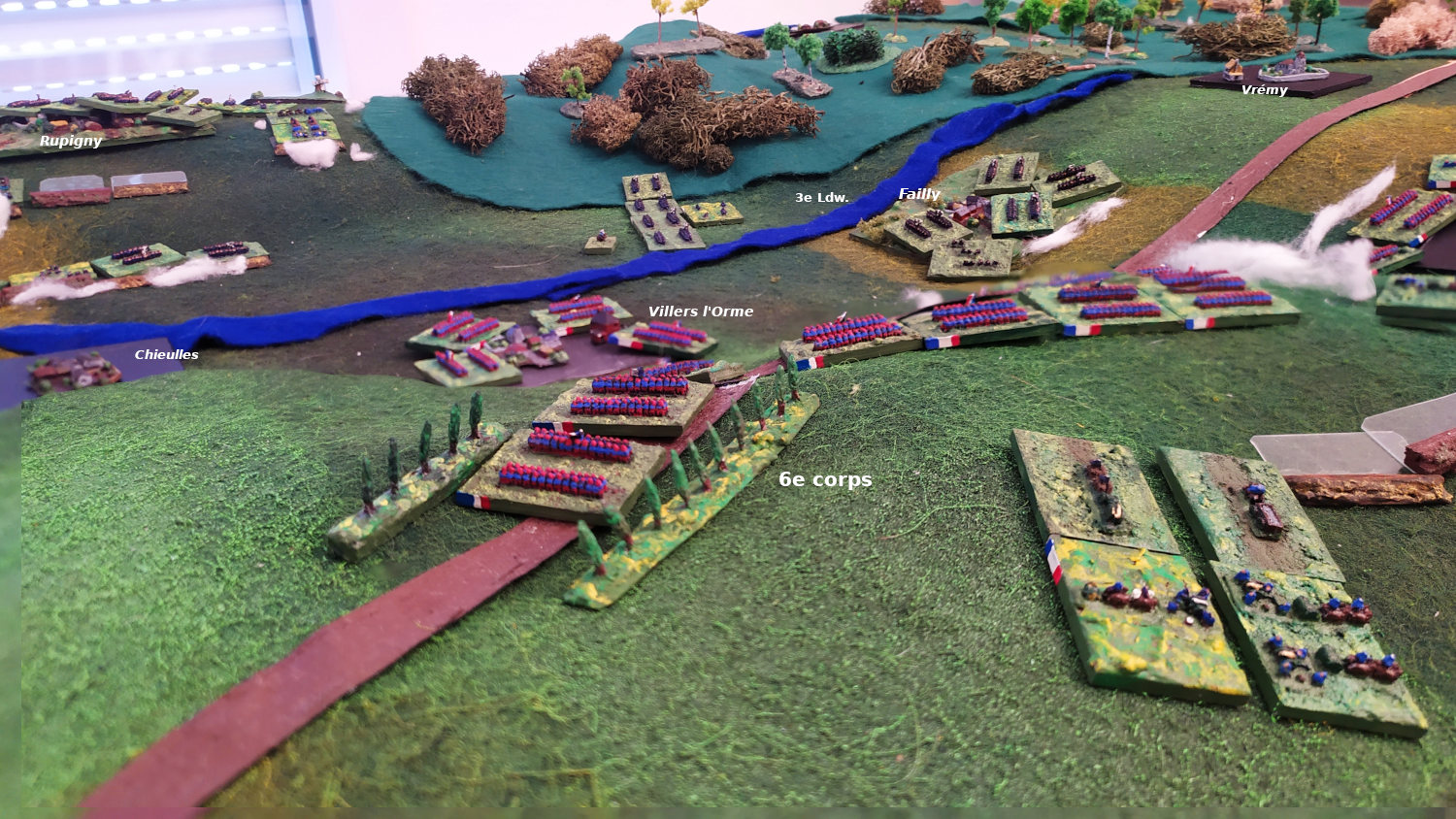 Un caisson français explose :
Tandis que dans le sud, une faible poignée de troupes bloque les prussiens :
La nuit tombe  …
C'est alors que la nuit tombe… (il va y avoir un tour de jeu spécial ).  The night fall (there was a special night turn )
La position générale : ( Les joueurs n'avaient pas accès à cette image !  😉  ) (cliquer sur l'image pour la voir en pleine taille)
La nuit tombe sur Noisseville :
Après les quelques actions spéciales de nuit (ravitaillement, qq redéploiements etc.), le jour se lève doucement pour le 8e tour (sur 11). 1er septembre 1870.
After special night actions, the foggy day came, for the 8th turn on 11.  1870, September 1st.
Vue depuis les positions prussiennes de von Manstein à Rupigny :
Et sur le flanc sud, les prussiens n'ont toujours pas passé Colombey, tenue par les voltigeurs de la Garde Impériale :
Que va -t-il se passer maintenant ? Les français ont il profité de l'obscurité pour se réorganiser ? Les prussiens ont il profité pour se repositionner ?…
What will happen now ? Did the french used the night time to re organized ? Did the prussian changed their positions ?
À bientôt pour la suite – More to come soon