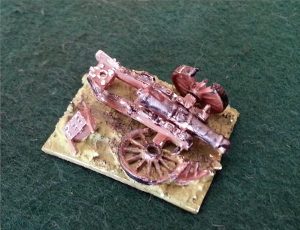 Les règles Longstreet de Sam Mustafa sont sorties dans leur version démo « light » ( >> Longstreet ) et j'ai voulu tester.
Basées sur une mécanique de cartes, similaire (mais pas totalement) à  Maurice, le jeu complet devrait sortir d'ici la fin de l'année 2013. Afin de comparer le ressenti, j'ai rejoué mon scénario solo avec ma version customisée de Drums and Shakos Large Battles,
voici les parties et mes commentaires.
The new rules Longstreet, from Sam Mustafa are coming. Sam let us play with the light demo rules « Longstreet Lite ». Using cards, like Maurice, there are some differences. I played twice this small solo scenario, to compare with my own house rules of Drums and Shakos Large Battles.
La bataille
version LONGSTREET Lite
Il s'agit d'un nombre de socles de figurines ( ici seulement 25 par camp, ce qui est peu, plus une batterie de 3 socles d'artillerie ) que le joueur choisit de grouper en formation (maxi 10 socles). On obtient ainsi ce qui peut être des régiments ou  des brigades d'effectifs différents. Les caractéristiques des deux camps sont rendus par la disponibilité, ou non, de certaines cartes spéciales.
I used only 25 bases for each side, (+ 3 artillery). They were different regiments. Differents cards are used to show the differences between the sides.
Les troupes de l'Union attendent l'attaque des sudistes.

Figurines 15mm de diverses origines ( Polly Oliver, Peter Pig, Old Glory ..)
Les troupes sudistes avancent..

Les artilleries des deux camps ont vite disparu sous le feu réciproque des canons.
Durant son avance, le sud découvre avec stupéfaction un marigot, non cartographié, juste sur son chemin !

Le nord en profite pour contre attaquer, essayant d'infliger un maximum de pertes au feu ( fire phase optionnelle, mais qui « consomme des cartes » )
Les phases de tirs se succédent partout.

Pendant ce temps l'aile droite sudiste tente une attaque massive.
| | |
| --- | --- |
| | Une vue des sudistes depuis les rangs de l'Union. |
| | |
| --- | --- |
| | Les troupes nordistes utilisent de leur mieux les phases de tirs. Le sud souffre.. |
| | |
| --- | --- |
| | Sur l'aile droite sudiste, c'est identique, les sudistes sont finalement stoppés par le feu des nordistes. |
Mes impressions sur  Longstreet Lite
Je reste toujours un peu dérouté par ce moteur de règles. Toutefois j'ai été moins gêné par les cartes qu'avec Maurice Lite (dans lequel j'ai vraiment l'impression de jouer « la carte » plutôt que le plan de bataille. Ces règles simulent bien le chaos de la bataille, mais -selon moi – vu de l'extérieur. J'ai du mal à trouver des sensations de commandement. Peut être avec plus de figurines ? On ressent toutefois bien l'épuisement des troupes, les choix qui se restreignent etc. Par contre, j'ai trouvé les tirs d'artilleries en contre batterie très (trop ?) efficaces.
Ce jeu sera sans doute très adapté aux joueurs de tournoi ou de clubs qui veulent une règle sans flou ni discussion ni « à peu près ». En cela elle est diablement efficace. Il faudra attendre la version complète pour que je me forge un vrai avis, mais je pense qu »elle n'est pas faite pour moi.
I'm a little embarrassed with this rules, as always. Alhtough it was easy to play the battle than with Maurice Lite, where I always find myself playing « the card » instead of playing « the battle ». Longstreet Lite simulates the chaos, but – for me – it was difficult to feel the ambiance. May be I should try with more minis ? We saw the fatigue coming, with less choice. But I found the artillery a little too deadly versus other artillery.
This game should work well in tournament or for club rules, when people doesn't want to argue about some points. Then it may be a great game. May be not for me. I will try the complete rules in a few months.
version DSLB
[ rappel : il s'agit de mes propres modifications personnelles de DSLB pour la guerre de sécession. I used my own personnal modifications of the rules DSLB. ]
Afin de jouer avec un équivalent, voici les troupes que j'ai utilisé. Afin de rendre les diverses caractéristiques ( ie. les cartes de Longstreet) j'ai utilisé quelques spécificités. Il n'y a PAS de C in C ni de réserves. For gaming the same scenario, I choose the forces (see below). There were NO « C in C », nor Reserves.
CSA
–
USA
Brigadier : Q3

1st Texas Q4 C4 Elan
17th North Carolina Q4 C4
2nd Tennessee Q4 C4
art 12 »  Q4
art 12 » Q4

Brigadier : Q3

22nd Mississippi Q4 C5 Strong
8th Louisiana Q4 C5
28th Virginia Q4 C4
art 12 » Q4

Brigadier : Q3

New York Q4 C5 Conscripts
96th Pensylvania Q4 C4
8th Pensylv. res. Q4 C4 Rifled Musket
art 10# Q3 Rifled

Brigadier : Q4

6th Wisconsin 'A' Q4 C3 Rifled Musket
6th Wisconsin 'B' Q4 C3 Rifled Musket
3rd US Regulars Q4 C4 Drilled
art 10# Q4 Rifled
art 10# Q4 Rifle
Rifled Musket : Une de mes règles spéciales. ça donne +1 Dé en approach, en attaque ou en défense.  One of my own special rules. It gives +1die during approach ( attacking or defending)
Rifled Artillery : Utilise des bandes de portées 2M au lieu de 1L. Use ranges of 2M instead of 1L.
| | |
| --- | --- |
| | L'artillerie de l'Union ouvre le feu. |
Les sudistes ripostent.

Les duels d'artillerie peuvent être longs. Toutefois les nordistes dissposent de meilleurs canons.
| | |
| --- | --- |
| | Mais les canons de l'Union subissent des pertes lourdes ! Aïe ! |
| | |
| --- | --- |
| | Profitant  de ce que l'artillerie nordiste part se mettre à l'abri, ce régiment sudiste travers les bois,  lentement mais sûrement. |
Pendant ce temps, sur l'aile gauche sudiste.. Meanwhile on the south left wing ..
| | |
| --- | --- |
| | Les sudistes montent à l'attaque, tan,dis que les nordistes essayent de les arrêter au feu.. |
| | |
| --- | --- |
| | Ce qui devait arriver arriva : le régiment de devant disparaît, ayant subi trop de pertes sous les tirs des bleus. |
Retournons sur l'aile droite, où la décision peut encore se faire. Let's get back to right wing, where the south may still win.
| | |
| --- | --- |
| | Sur l'aile droite sudiste, un régiment texan attaque, sous les tirs nourris des  mousquets et fusils ennemis. |
Les texans sont battus !

Le 17e North Carolina se précipite pour exploiter avant que les nordistes ne puissent se réorganiser !
| | |
| --- | --- |
| | Après un sévère corps à corps le régiment nordiste s'enfuit. Le 17e N. Carolina pourrait percer ? seul ?.. |
Le 17e N. Carolina est VRAIMENT seul !

Les autres sudistes se précipitent en criant leur fameux Rebell yell.

Le général nordiste dirige toujours ses hommes. Son reliquat d'artillerie essaie de se redéployer en arrière..

« a thin blue line » est tout ce qui reste !
Utilisant chaque possibilité de réaction, les sudistes attaquent. Un petit régiment nordiste essaye de s'interposer.

On distingue au fond la dernière artillerie de la brigade nordiste qui essaye de se déployer.
Après un bref corps à corps, les bleus reculent, mais ils tiennent encore le terrain !

C'est un moment crucial et décisif !
L'artillerie réussit in extremis à ouvrir le feu. Le nord est éreinté, mais le sud ne peut se permettre davantage de pertes et doit stopper son attaque.

Une Thin Blue Line a tenu le terrain !
Mes impressions sur cette bataille
Les canons nordistes ont permis de vaincre, d'abord en causant des pertes à très longues distances, puis en réussissant in extremis à s'imposer. Les fusils nordistes ont permis d'égaliser les forces et qualités des sudistes. La partie a été plus longue qu'avec Longstreet, mais j'ai vraiment eu davantage l'impression de commander sur le terrain, bien que ne pouvant pas tout faire. Plusieurs turn over toujours mal venus permettent à l'adversaire d'exploiter, sans parler des réactions possibles pendant le tour de jeu adverse dès qu'un dé d'activation est raté.
Union artillery won, first by making casualties, that shaken the south, and finally by opening  fire at close range. The rifled muskets manage to fire at better regiments. The game last longer than with the Longstreet rules, but I was « in the battle » trying to command. I could'nt do everything, and some bad turn overs led to some difficult situations. The reactions were used by both sides with an equal success.
And so ?
Quasiment la même bataille, avec quasiment le même résultat (quoi que sur un flanc différent !) On peut penser que les deux règles simulent la même chose ! 🙂  LONGSTREET a été plus rapide à jouer, et permettra de s'affronter correctement. Toutefois ma préférence reste à DRUMS and SHAKOS LARGE BATTLES où je retrouve ce que je crois être de meilleurs sensations. Cela ne concerne que moi, il vous faut tester les 2 règles !
It was almost the same battle, with the same result (although on a different wing !) We may think voth rules simulate the same war 😉 . LONGSTEET played faster, the game was shorter. But I prefer DRUMS and SHAKOS LARGE BATTLES, where I feel a better sense of command. It's for my way of playing, you have to try both rules !
Merci de m'avoir lu ! Thanks for reading.