Fin de notre campagne SBH : L'ATTAQUE DES NAINS TRANSGÉNIQUES
Notre mini campagne ( voir partie 1 et parties 2 et 3 ) vient de s'achever, voici les 2 derniers scénarii. Toujours en figurines 28mm, avec les règles Song of Blades and  Heroes. Il avait été convenu l'enchaînement de 5 scénarios identiques : récolter de mystérieuses gemmes. Chaque gemme stockée donnait 5 points de plus pour le warband suivant. Les joueurs pouvaient ré utiliser les personnages survivants (conservant leurs gains en Xp) ou en licencier certains de façon à ré attribuer les points.
Our SBH campaign finally end with the 5th game.  ( see part 1 and part 2 & 3 ) We're using 28mm minis and the rules « Song of Blades and Heroes ».  Each magical gem gave 5 more warband points for the next game. The players may keep their characters, gaining some experience. Or disband some of them to buy new ones.
Scénario 4 : les champignons
Les gemmes sont tombées dans un secteur étrange et abandonné. Une tour  maudite surplombe une forêt où poussent des champignons explosifs ! Ainsi dès qu'un personnage s'approche à une distance M d'un champignon, celui çi explose ! Tout personnage à portée L doit réussir un jet de Q où recevoir un marqueur « transfix » !
The magical gems are now in a strange forest, with abandonned buildings and mysterious exploding mushrooms ! Each time a character is close to this mushroom ( M range), it explodes, and everyone in a range of L must pass a Q test or become transfixed !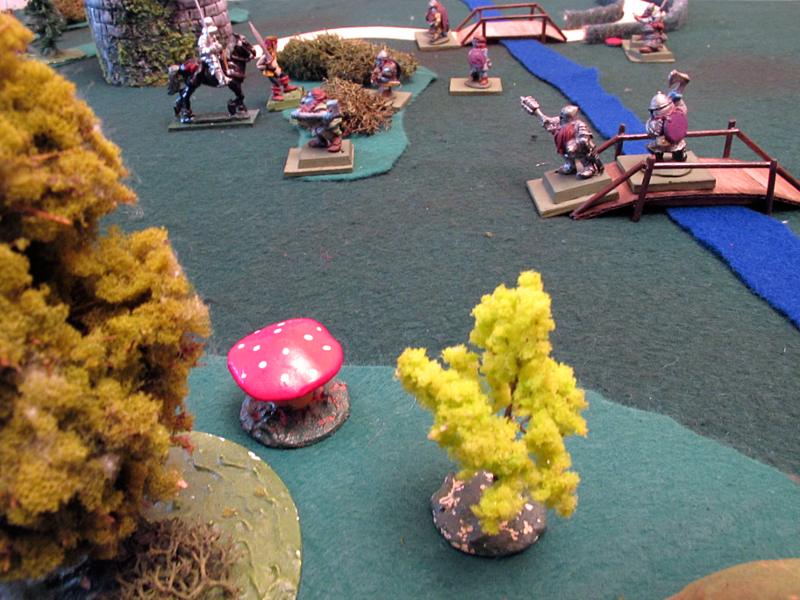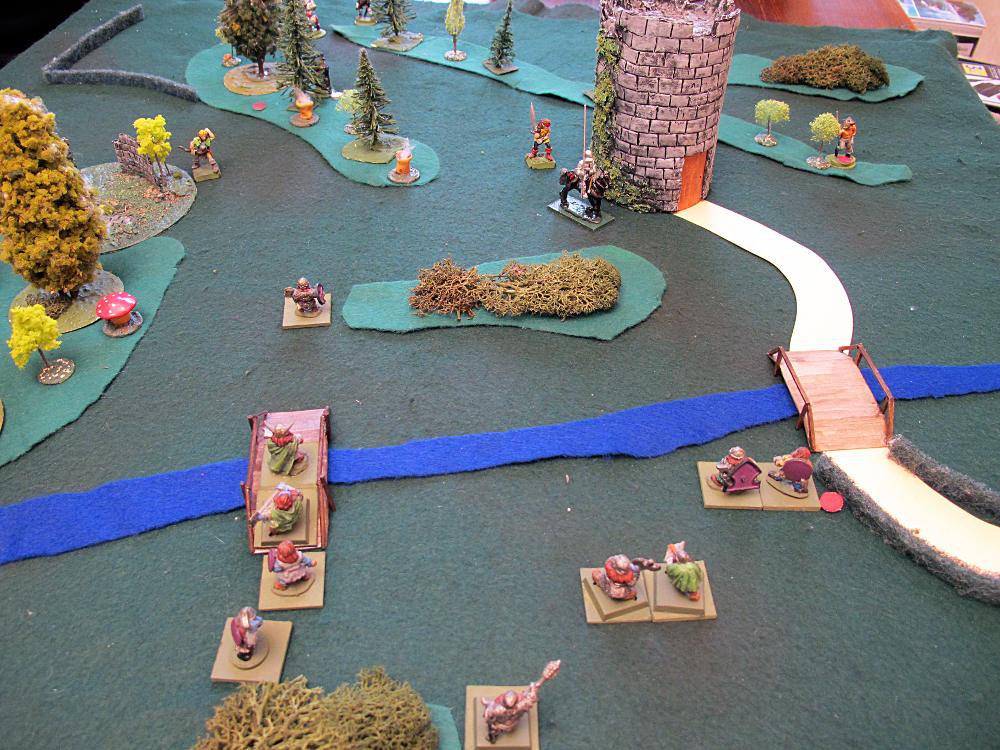 VICTOIRE !
C'est une victoire pour l'alliance anti nains ! Non seulement les nains transgéniques ont été mis en fuite, mais surtout le score global des gemmes vient de s'équilibrer ! Nous en avons autant chacun ! Le prochain – et dernier – scénario décidera du vainqueur de la campagne ! 🙂
It's a victory for the alliance. The dwarves fled, but the global score is now equal ! each side is owning the same number of gems ! The next – and last – scenario will decide the victory !
Suite..
Scénario 5 : Le village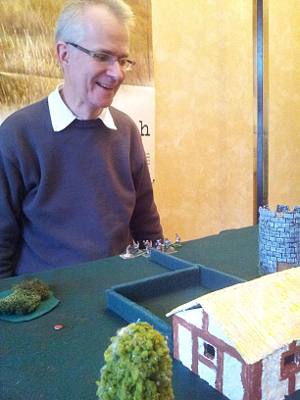 Nos deux camps adverses sont donc d
ans une stricte égalité ! 5 nouvelles gemmes magiques sont tombées près du hameau.. Le camp qui ramassera le plus de gemmes gagnera donc le scénario ET le campagne ! ( Nous décidons du terrain avant la partie, ce qui laisse le choix aux joueurs de remanier en partie leur squad..)  Le terrain est très ouvert, un simple hameau et quelques arbres.
Both of us are owning the same number of gems. 5 gems fall near a small village. The side taking the greatest number of gems will win the scenario AND THE CAMPAIGN ! ( We decide the terrain long berfore the game, so players can't adjust their warbands), This is an open terrain, only some buildings and some trees.

QUI VA GAGNER ?
( Ludo, my opponent is already sure to win… – Ludo déjà certain de gagner )
| | |
| --- | --- |
| ( My Fierce Knight is rushing to the ennemies – Mon fier chevalier se précipitent vers l'ennemi.) | |
Les nains gagnent !
Dans ce scénario, Ludo m'a mis une sacré raclée ! Une seule de mes figurines s'en sort (avec une gemme). Mes autres guerriers ont combattu jusqu'à la mort, sachant que l'enjeu de leur royaume était là.. Mais en vain. Plusieurs erreurs tactiques m'ont coûté cher.  Les nains gagnent ce scénario  et la campagne. Sur le fil du razoir, mais avec brio !  Bravo Ludo !  à quand la revanche ? 😉
In this game Ludo won. Only one of my warriors escaped (with a gem). The other ones fight to the death, knowing their kingdom is about to loose. But they died un vain. Many tactictal mistakes drove me to the defeat. and Ludo played well ! Bravo Ludo !
Fin ?
C'est la fin de cette mini campagne. Mais un espion m'a informé que quelques années après, des renégats et résistants combattaient encore, et un mystérieux  3e camp allait surgir.. Aucune information n'a encore filtré. Une guerre civile ? la résurgence d'une ancienne croyance ? un changement de civilisation ?… à bientôt pour la suite !
This short campaign ended. But a spy told me, some years after, there were still some fights. And a mysterious third side was coming. No more informations.. A Civil War ?  A Forgotten Religion rising ? Another civilization ?.. who knows..
Thanks for reading, see you soon !